JMEC Co.,LTD
for the patients' smile
The smile of the patient is our greatest joy.
We will grant people's wishes to be "beautiful and healthy", through the integration of medicine and aesthetic care.
Who we are (Corporate Outline)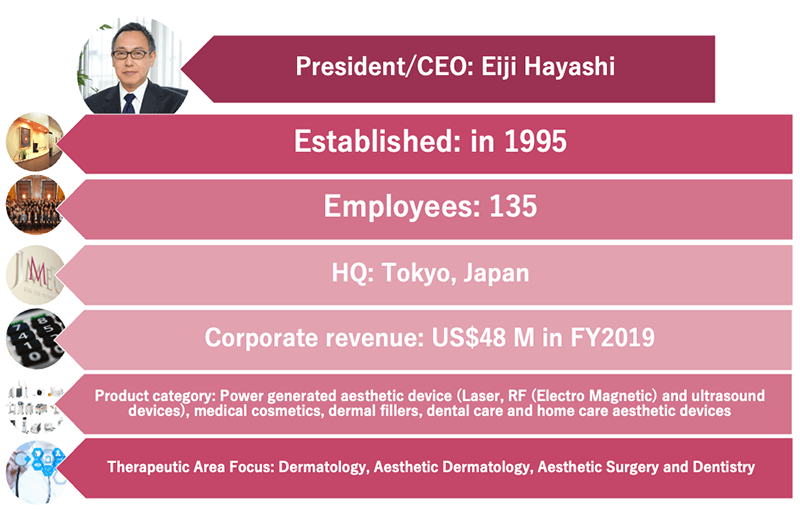 Our branches and Group offices 
HQ located in Tokyo and there are 4 brunches through out Japan. We have strong sales force covers needs of our clients all over the country. We also have a partner-clinic located on the 2nd floor of this building. We have 2 MDs there and together we evaluate products, treatment, and gain valuable feedback on how our products are received by patients.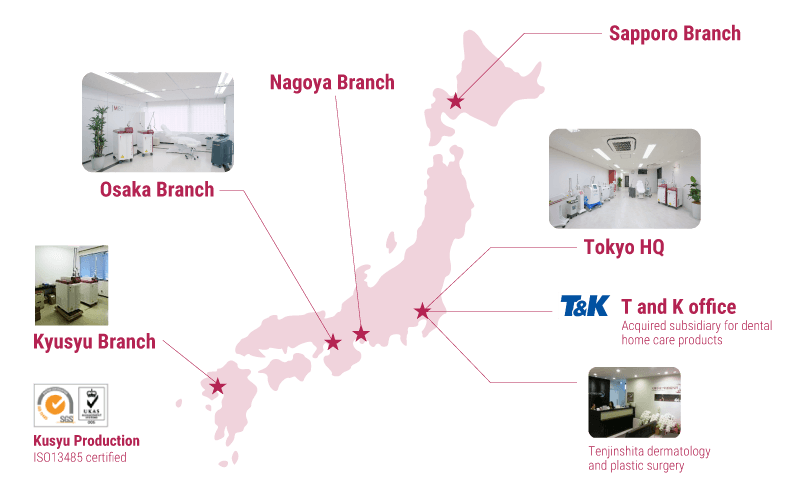 | | |
| --- | --- |
| Company Name | JMEC Co.,LTD |
| Headquarter | 3-31-3 Yushima , Bunkyo-ku, TOKYO,JAPAN |
| TEL | 81-3-5688-1803 |
| FAX | 81-3-5688-1805 |
| Chairman of the Board of Directors | Hank Nishimura |
| President & CEO | Eiji Hayashi |
| Vice President & Representative Director & CFO | Seishi Fujita |
| Exective Director | Tak Takaya |
| Corporate Auditor | Yoshihiro Ohtaki, Ph.D |
| Established | October 18, 1995 |
| Paid-in Capital | JPY 300 milion |
| Bank Account | Sumitomo Mitsui Banking Corporation, Ueno BranchMUFG Bank, Ltd., Kasugacho BranchResona Bank, Ltd. Hongo Branch |
| Leagal Counsel | Hoshino & Associates |
| Audit Corporation | Shin Nihon & Co. |
What we do -core strength-
We at JMEC consider ourselves a total business provider.
We have a big sales force through out Japan. Our engineering and QA team handle maintenance and technical service on-call, year around. Our RN staff provides extensive clinical support.
We offer diverse products from in-house products till imported ones from our partners thorough excusive distributorship.
We organize clinical support seminars, business support seminars, PR, web marketing, patient education to our clients.
In addition, we have our own medical cosmetics line, as well as B to C department that provides home tightening device.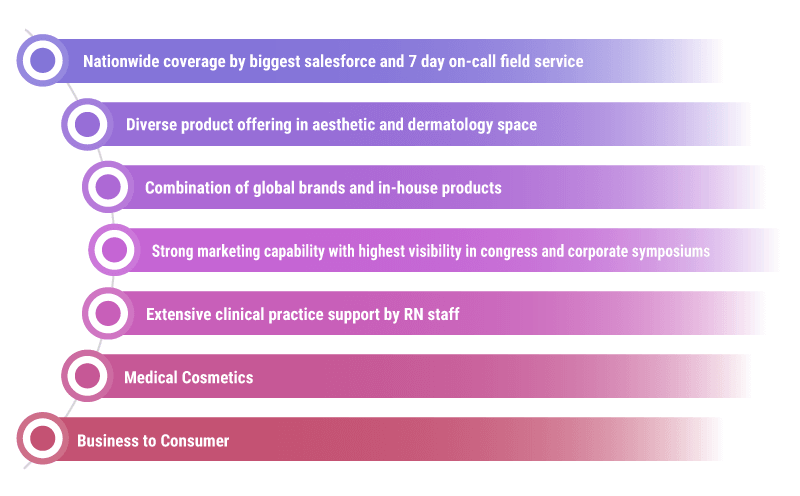 Our Partners
 Diverse product offering in aesthetic and dermatology
Our partners are innovative in their specialized fields, with solid business strategies, focused on patent protection, practice evidence-based support, have superior quality standards, and a desire to address unique Japanese market needs.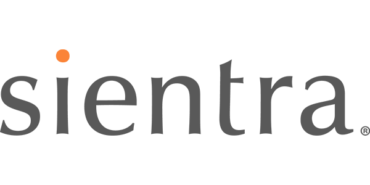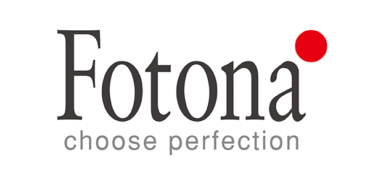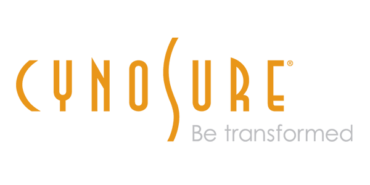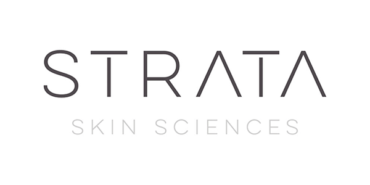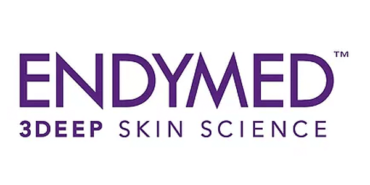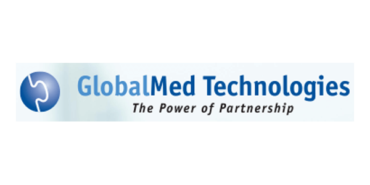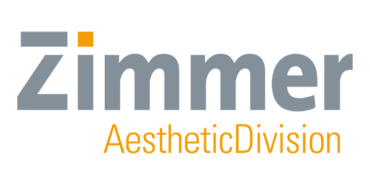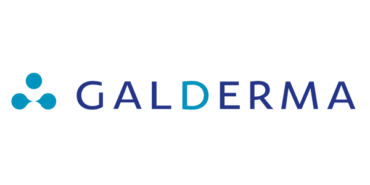 Contact and Access
2 mins from Chiyoda-line 'Yushima-Station' Exit No.3
5 mins from Ginza-line 'Ueno-Hirokoji Station' Exit No.A4
2 mins from Oedo-line 'Ueno-Okachimachi Station' Exit No.3
8 mins from JR Yamanote / Keihin-Tohoku-line
'Okachimachi Station' Exit North
Enquiry Form
To submit your enquiry to JMEC, please complete the form below.
Please note that we may not be able to respond immediately to all enquiries.
In order to allow us to respond as appropriately as possible, please fill in all sections of the contact form.